Our Facilities
Northfield School is a large 11-16 school and specialist sports college. We are an ambitious and inclusive school with state-of-the-art facilities and interactive technology in a well-resourced newly refurbished main building and a separate new Year 7 School.
Dining Hall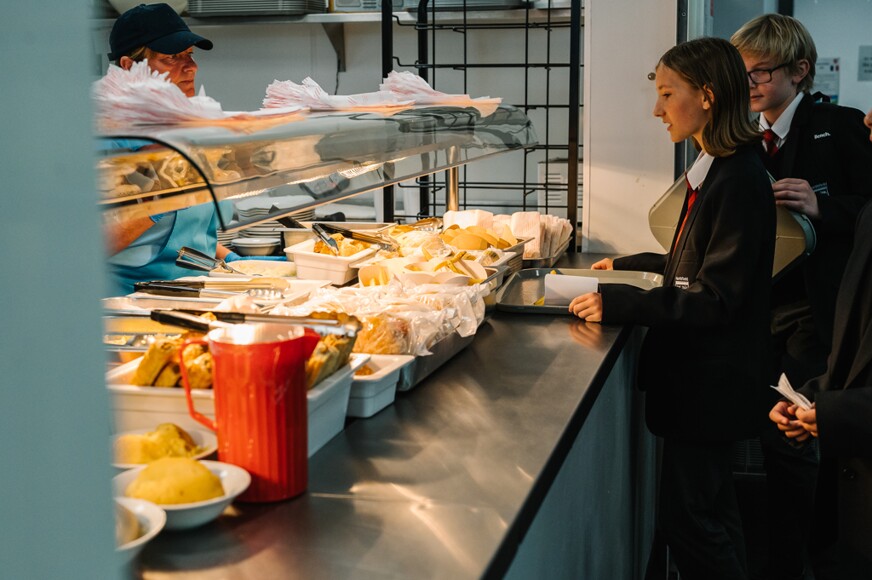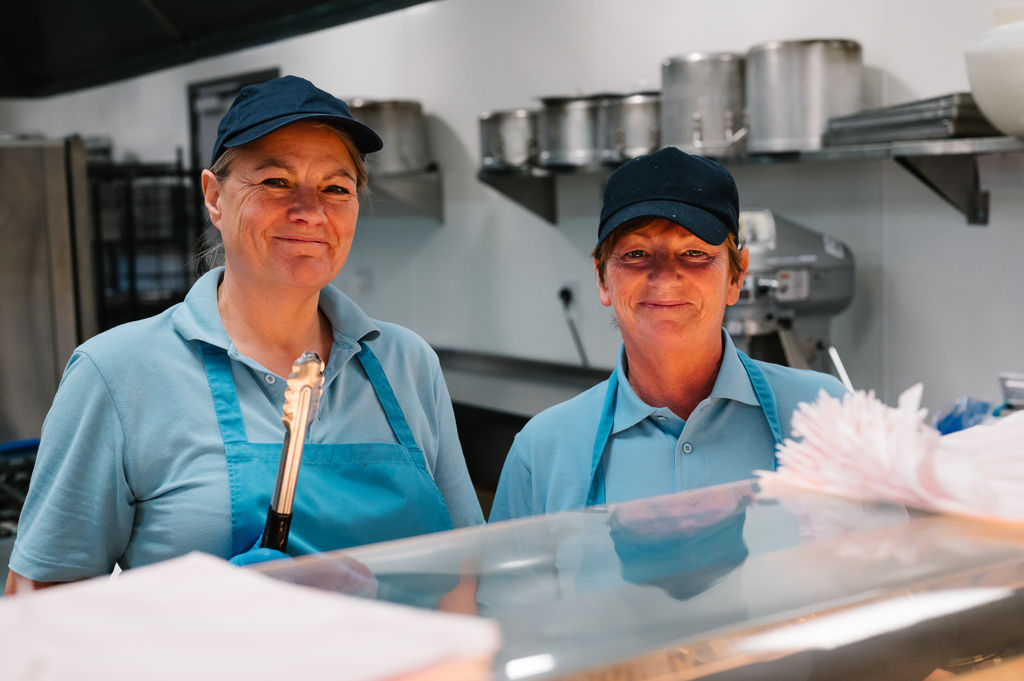 We are incredibly proud of our newly furbished dining hall and the quality and range of food we serve to our pupils, staff and visitors. We have a dedicated team of catering staff who do a fabulous job cooking and serving delicious, healthy food to over 1,300 pupils each day.
The dining hall was designed following consultation with pupils, who helped choose the layout, colours and furniture, creating a vibrant and relaxed atmosphere.
For more information about our catering and school meals, click here.
ICT Suites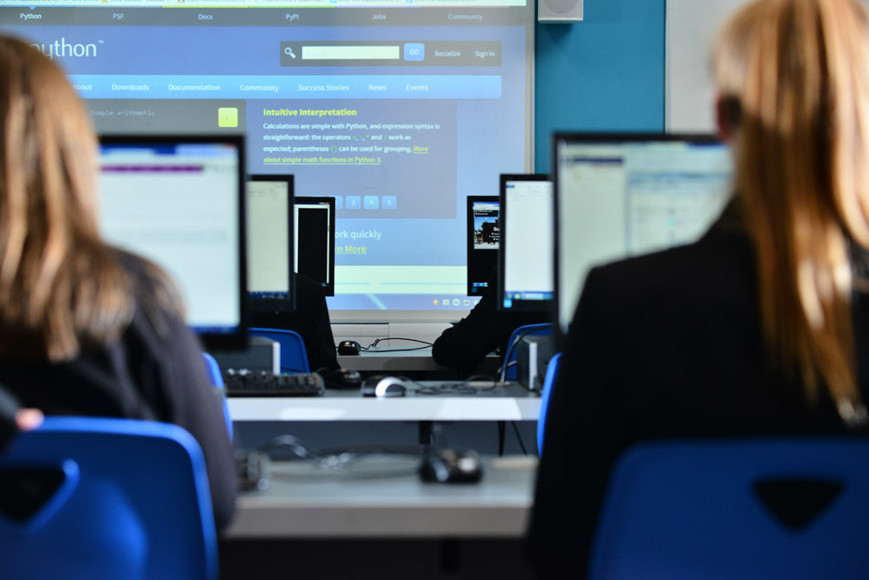 Pupils and staff at Northfield School are celebrating the success the ICT department's recent results by further developing the school building to include outstanding, state of the art ICT facilities throughout to encourage innovative learning.
There are 120 computers in the ICT department and 200 available across the school to support pupils, available Monday to Friday during lunch and after school, to assist them with homework, coursework or research.
Northfield School and the ICT department have invested into both hardware and software to make sure all the computers have the latest versions of industry standard software including Adobe Creative Cloud (Dreamweaver, Fireworks, Photoshop, Flash) and Microsoft Office (Word, Excel, Access) as well as hardware to support learning including microphones, headphones, digital cameras and adjustable monitors to support Visually Impaired students.
Training School
Northfield School and Sports College was designated a specialist Training School in 2008 by the Training and Development Agency (TDA) for Schools. This accolade followed on from a review by the TDA which stated that Northfield demonstrated an 'exceptional commitment to initial teacher training'.
Since then, Northfield has worked in partnership with Stockton Local Authority and the universities of Durham and Sunderland to deliver outstanding training to student teachers. Many of these trainees have subsequently been recruited by Northfield as full-time members of staff and this has had a very positive impact on the overall quality of teaching and learning within school. This enrichment of the teaching body was recognised as highly significant during the recent Ofsted inspection when it was shown that 31 outstanding new teachers had been recruited from our pool of trainees during the last 3 years.
Other aspects of our Training School work include the following:
Funding and management of nationally recognised qualifications for aspiring leaders within school both at senior and middle leadership levels.
Bursary awards for teaching and support staff in recognition of completed school improvement projects.
Providing collaborative training opportunities for colleagues in schools within the Stockton Authority.
Running G.C.S.E. classes in Mathematics and Science for support staff within Stockton Authority.
Delivering courses within school for the enhancement of teaching and learning expertise and leadership skills.
Contributing to the management and development of teacher training for Stockton Local Authority and the universities of Durham and Sunderland.
Taking the role of hub school for a new national pilot in online teacher training (e-learn ITT).
Although the Government has withdrawn funding for the Training School specialism nationally from March 2012, it is Northfield's intention to carry on this invaluable work as it has delivered such a positive impact on both the school and the wider community. New initiatives to provide alternative funding routes will be applied for as they become available.
Library & Resource Centre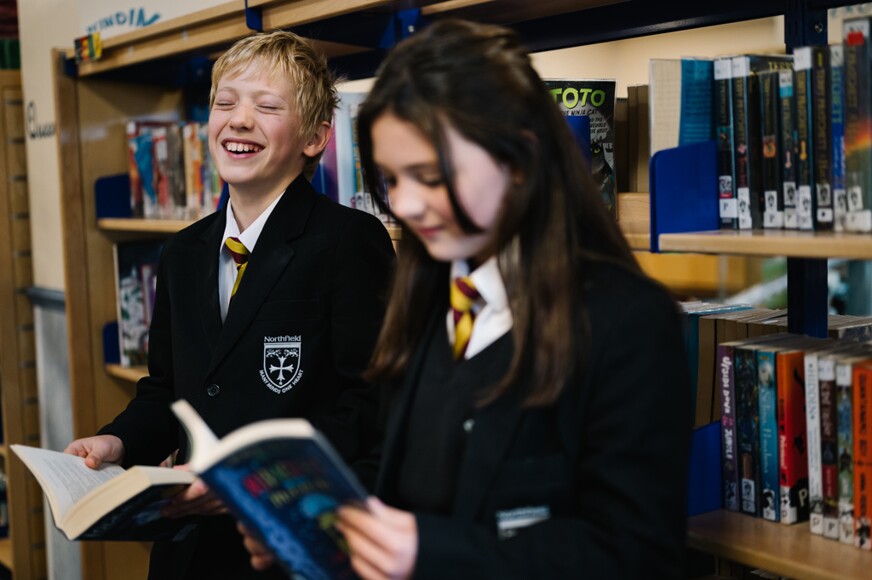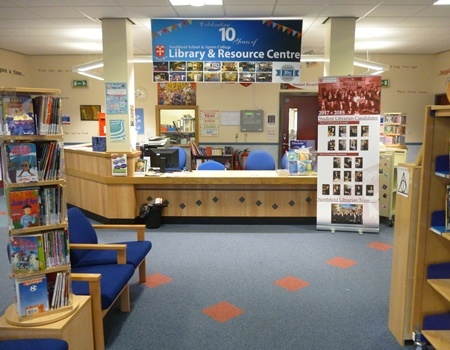 Northfield School has a purpose built Library and Resource Centre which was officially opened by author Anne Fine in March 2008. The Library aims to support and promote pupils independent reading and learning. The Centre is open for pupils five days a week; break time, lunchtime, before and after school, as well as being used for a wide range of lessons throughout the day.
Every pupil automatically becomes a member of the Library and Resource Centre when they join Northfield, which allows them to use the resources and borrow up to 2 books for 2 weeks and 4 books when in Years 10 and 11. We just ask that books borrowed are cared for and returned on time. Our online school library allows pupils to search for resources including recommended websites for homework. Pupils login with their school email address and the password is: Reading9.
It provides:
13,500+ items of stock including fiction, non-fiction, reference books and audio books.
An extensive non-fiction stock covering topics taught on the curriculum.
A large selection of new, up to date fiction titles including 'Quick Read' and 'Fiction+' sections to cater for the full range of ages and abilities within the school.
A choice of over 5,000 books for Accelerated Reader, with quizzes available.
A calm friendly environment with spacious study areas, comfortable seating and reading areas.
Support for all pupils with homework and research.
10 PC's that pupils can use for homework as well as a colour printer and interactive whiteboard.
An online library database Eclipse.net, which allows pupils and staff to search for books easily. To access the online school library, click here and login using your school email address and the password Reading9. You will need to login to access.
Weekly clubs including book, games, chess and film clubs.
Magazines and newspapers.
Literary events held throughout the year including author visits.
Pupil Librarian Training Scheme.
The Library Team
The Library and Resource Centre is managed by Mrs Cady and Mrs Green (Librarians) and teachers who support during opening times to help pupils to access resources and with homework and research. We have a large and enthusiastic team of Student Librarians from years 7 to 11, who volunteer on a regular basis and take on duties to support the day to day running of the Library.
School Online Library
Our online library database Eclipse.net allows pupils and staff to search for books easily. To access the online school library, click here.
Pupil Librarians
Pupil Librarians are chosen each year through an application process and in Year 8 have the opportunity to complete the Pupil Librarian Training Scheme. Then in Year 9 they can work towards the Advanced Pupil Librarian Award. On completion students are invited to an annual presentation evening to receive their certificates. This is attended by 20+ schools across Teesside who all follow the scheme, which gained recognition from the National Literacy Trust and is the largest of its kind.
Accelerated Reader Programme
The Library and Resource Centre supports the Accelerated Reader programme, with a large selection of books labelled in the appropriate book levels and with quiz information to make it easier for students. We also have sessions during morning form time and break just for pupils to do Accelerated Reader quizzes, catch up on their reading, change books and speak to staff about any concerns.
To find out more about the Accelerated Programme, click here.
Recommended Reading Lists
Please see the downloads list to the right for recommended reading lists. All of the books listed are available in the library to support students.