Careers Education Information Advice & Guidance
At Northfield School and Sports College, we provide pupils with comprehensive careers information, advice and guidance to enable them to become effective decision makers and to plan for their future careers. We seek to raise their aspirations and make them aware of all the options and opportunities available to them.
All pupils have an entitlement to careers support and they will receive personal one to one sessions with Youth Directions, where they will receive impartial and realistic information, advice and guidance. Pupils will all follow a careers education programme throughout their time in school.
Staff, pupils and parents/carers will be involved in the development of CEIAG and we look to business partners and other stakeholders for support in our commitment to deliver quality CEIAG. For more information, please see the relevant sections for parents, pupils and businesses.
Careers Programme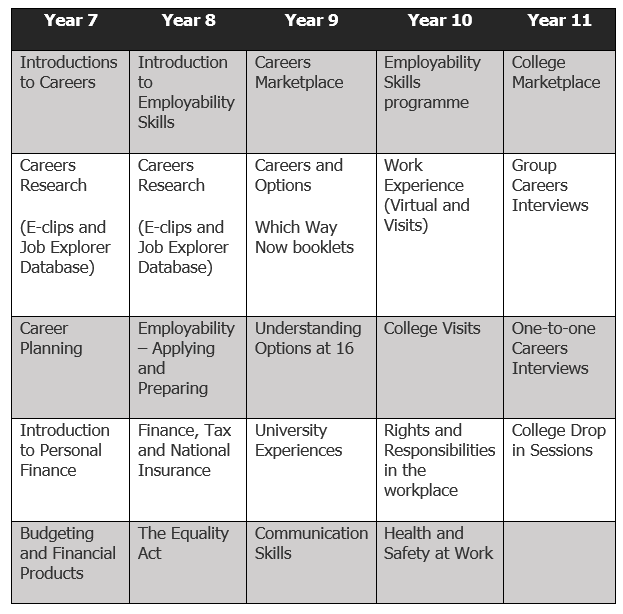 Parent Information
Year 10 Employability Skills
We work closely with local employers to make sure that we develop necessary skills for the world of work.
Visiting speakers from businesses such as Middlesbrough Football Club and Lucite International Ltd speak to Year 10 students about the importance of employability skills and then every student carries out a research project.
Careers Event
At the end of Year 10, students get an opportunity to spend a day visiting local and regional businesses to find out more about the wide range of careers available to them. Past businesses involved have included the following:
Tesco
Wynyard Hall Hotel
Sembcorp
Suzanne Wilson Hair Design
The Arc
Careers Advice and Colleges
We work closely with all of our local colleges to provide taster sessions and information so that the correct courses are chosen in Year 9 and places are gained in further education. In Year 10 all students experience at least 1 visit to a local College in the summer term. Colleges are also in attendance at parents' evenings from Year 9 through until Year 11.
Year 11 College Marketplace
In October, all Year 11 students are given time to collect information from regional and local colleges. The Armed Forces and Apprenticeship providers are also in attendance.
Youth Directions
At the beginning of Year 11 all students attend a group session to help prioritise needs and give students ideas on appropriate careers. All Year 11 students attend at least one 1-1 session. Youth Directions also work with students in Year's 9 and 10 where appropriate.
Success of CEIAG Programme at Northfield
The main indication of the success of our programme is the school NEET figure (students 'Not in Education, Employment or Training'). As of June 2021, our NEET figure is 3.0%. The figure has been no higher than 3.0% for the past 4 years.
Student Information
Year 7,8,9 and 10 students will follow the Careers Programme as part of their Life Skills lessons as well as through assemblies and visiting speakers.
Year 11 students will follow the Careers Programme through assemblies, drop down sessions and a combination of visiting speakers and meetings with Youth Directions.
Business Information
At Northfield School and Sports College, we are always looking to develop links with local Businesses in order to improve Careers Education and get involved with our community.
If you would like to discuss getting involved further, please feel free to contact our Careers Lead Mr I Clayton by either:
Tel: 01642 557373
Email: iclayton@northfieldssc.org