Year 11 Celebrate GCSE Success!
Back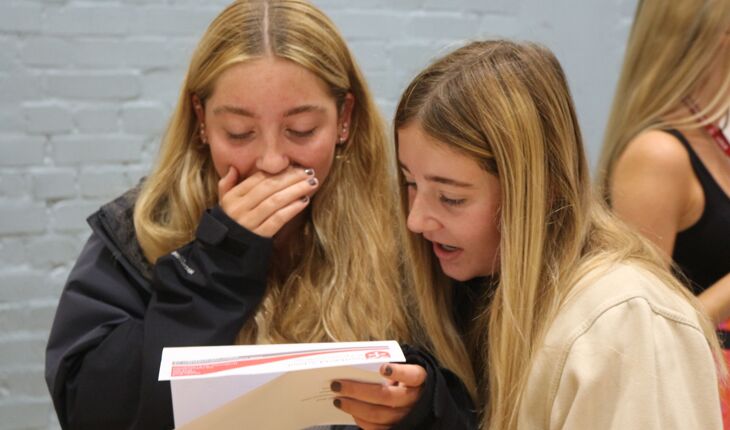 Posted on 24 Aug 2023
We are delighted to announce the exceptional achievements of our pupils this morning as they received their long-awaited GCSE results.
Very well done to all pupils collecting their results, each of whom should be very proud of their achievements in securing that important next step into employment, education or training. We wish them all the very best for the next part of their journey.
The school is particularly proud of high achievers Chloe McAllister and Luke Grabham, who each achieved an outstanding nine Grade 9s and two Grade 8s, securing their places at Queen Elizabeth College. Chloe will study chemistry, biology, mathematics, and French, while Luke will study maths, further maths, chemistry, and economics.
Top performers include Charlotte Birch, who secured an impressive nine 9s and two 7s and is heading to Bede Sixth Form College to study maths, computer science, and history.
Noah Butler also achieved fantastic results, including one Grade 9, four 8s, and two 7s, plus a Level 2 Distinction* in Engineering. Noah is now preparing to study digital production at Middlesbrough College.
Among their brilliant results, Adam Phillips and Jacob Coe also secured outstanding results in BTEC vocational courses, achieving two Level 2 Distinction*s, one in Engineering and one in iMedia.
Headteacher, Mr Henderson, expressed his delight, commenting: "It was heartwarming to see the joy of pupils and their parents today. Seeing the results of pupils' hard work and resilience over the past two years filled me with immense pride. Congratulations to you all.
"I extend my thanks to the exceptional staff at Northfield for their unwavering commitment and dedication. The strong relationships here at Northfield were so evident today by the number of staff in school to congratulate pupils on their results - it was lovely to see. "
Congratulations, class of 2023! We wish you the best of luck with your next steps and look forward to hearing about what you get up to - stay in touch!