Great Northern Author Tour Comes to Northfield
Back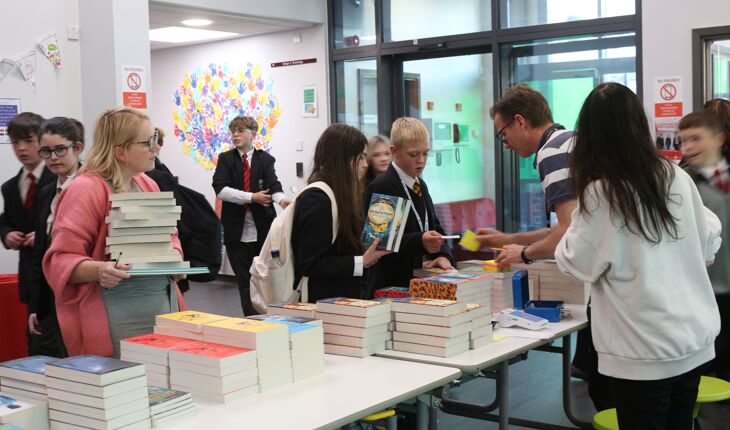 Posted on 11 Oct 2022
Year 7 pupils enjoyed an exciting afternoon last Friday as we welcomed not one but SEVEN local authors into our school as part of the Great Northern Author Tour.
Authors Lisette Auton, Alex Foulkes, Vashti Hardy, James Harris, James Nicol, Dan Smith OBE, and Bethany Walker provided an exceptional afternoon for our pupils. They enjoyed a presentation in our school hall and had the opportunity to chat with the authors, purchase their books, and have them signed.
Two of our Book Club pupils were on the scene to get some great quotes from the authors...
James Harris: "Amazing school, great audience."
Vashti Hardy: "Loved visiting. The pupils are very imaginative."
Alex Foulkes: "Wonderful school, very welcoming I would love to come back."
Richard Drake: "It's been brilliant, utterly amazing, love it, love it, love it!"
Our School Librarian, Mrs Cady, commented: "Pupils were really engaged and entertained throughout, and it was all thanks to Drake the Bookshop in Stockton for organising the fantastic tour."
We have purchased copies of the authors' marvelous books for our pupils to borrow - head down to our library to find out more!