Helen Rutter's Visit
Back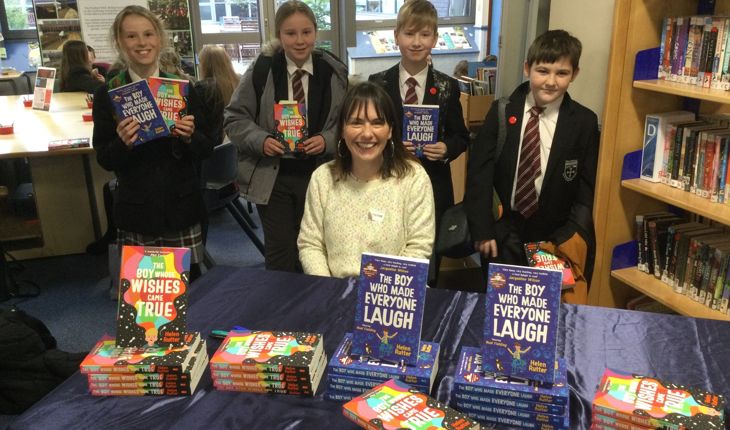 Posted on 11 Feb 2022
We were thrilled to welcome award winning author Helen Rutter on Monday 7th February as part of her publicity tour to launch her new book 'The Boy Whose Wishes Came True'. Pupils from Year 7 and 8 were selected to meet Helen for their achievement with Accelerated Reader or showing their love reading through involvement in the School Library. Helen's previous book 'The Boy Who Made Everyone Laugh' was a best seller and nominated for the Costa Book Award and the Blue Peter Award last year. It is a favourite at Northfield and recently chosen as a Year 7 recommended reading book.
Helen gave an energetic, funny and engaging talk about her journey to becoming an author with a very long list of previous jobs which included everything from actress and comedian to waitress. She shared the moment of inspiration for her first book that was inspired by her son Lenny and told us how she has her best ideas when bored as that's when you can let your imagination run. Helen asked pupils to help her create a character and story for her next book and through sharing ideas they came up with a character called Melinda and then created story board, she shared lots of writing tips for any budding authors.
Helen really captured pupils imagination and most of them stayed to buy a copy of her book and have it signed by her. She enjoyed talking to students about reading and answered all questions about her books and becoming a writer. Big thanks go to Drake the Bookshop for bringing this event to Northfield.