Proactive Pupil, Millie, Discusses Sustainability with Local MP
Back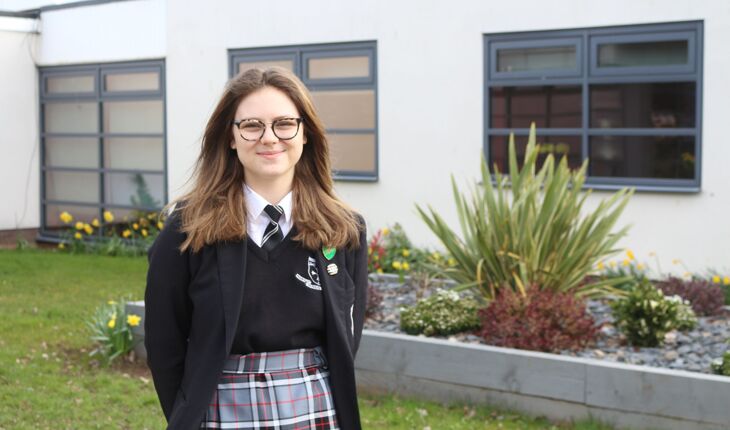 Posted on 24 Mar 2023
Our brilliant Year 11 pupil, Millie Easby, welcomed local MP Alex Cunningham into school last Friday, who was eager to hear more about the sustainability plans Millie had been campaigning for at Northfield.
Millie is committed to reducing litter and single-use plastic usage in our school, so she recently submitted a bid to our parent-teacher association for reusable bottles and water fountains to help achieve this goal. Incredibly Millie has secured funding towards stainless steel bottles for our new Year 7 cohort from Bright Minds Big Future (BMBF) and has even written to one of our drinks suppliers to negotiate a change to more sustainable packaging.
Furthermore, Millie worked on a Plastic Free Schools project where she and another pupil conducted an audit documenting the amount of plastic used in school. Millie commented: "The audit solidified the need for reusable bottles and more water fountains as we noticed that most of the litter at lunchtime was plastic bottles."
One of the tasks involved emailing the local MP to explain what the school is doing to combat plastics and litter, which prompted the visit by Alex Cunningham MP, who was impressed by Millie's enthusiasm and drive, commenting: "You knew you were on a path. You knew where you were and know where you are going."
BMBF also attended the meeting and commented how Millie had 'refreshing and inspiring ideas'. They were impressed with the changes Millie was driving forward and discussed how they could help support Northfield's sustainability plans.

Millie's Head of Year, Mr Jackson, who was full of praise, said: "The work Millie has been doing in school is fantastic. She is leaving behind a legacy that will continue through the years. By providing our new Year 7 cohort with reusable bottles, we will be immersing a culture of sustainability at Northfield from the get-go."
Northfield School is actively looking for ideas for instant and long-term change. This week, staff and pupils planted over 100 trees on our school grounds to mark Northfield's 50th anniversary and a shift to more sustainable thinking, and we hope that tree planting will become an annual event that pupils can get involved in.
Mrs Norton, Director of Business and Finance at Northfield School, commented: "As a school, we are committed to driving change that will help reduce our carbon footprint, and we are thrilled to have Millie's enthusiasm on board.
"We have established a sustainability working group of staff and pupils and are planning our sustainability strategy for the next five years. Watch this space."
If you would like to get involved, keep an eye out for exciting eco-projects coming soon!