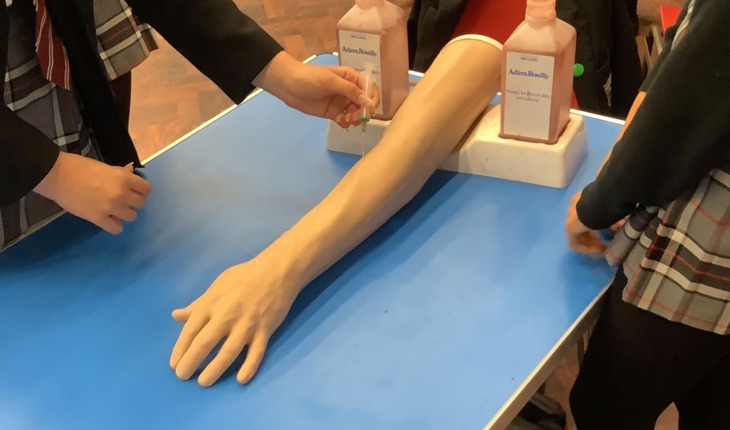 Posted on 18 Jun 2021
Pupils from all year groups have been taking part in workshops, delivered by Medical Mavericks, to find out more about future careers within healthcare and sports science. The sessions were incredibly engaging and students have gained a valuable insight into the diverse world of healthcare.
The careers in health interactive workshop designed towards all pupils aims to debunk the myth that only doctor and nurses roles are available within the health industry. Pupils had hands on experience with medical equipment including a key-hole surgery simulator with two different levels of difficulty, an ultrasound machine, blood pressure cuffs and pulse monitors. The big hit of the day was pupils practising taking blood from a false arm and practising suturing an open wound.
Pupils also got to challenge the champions in a sports science workshop where they attempted various tests to compare themselves to each other and some of the world's greatest athletes. During this session students tested their reactions on the BATAK wall, had a virtual race against Usain Bolt and generated record power on a Watt bike. Our very own Ben Wrann in Year 10 actually beat Usian Bolt's 100m time!
Everyone thoroughly enjoyed the workshop, especially competing with one another to see who can throw the ball the fastest.
Take a look at our video of some of the activities.