From Patch to Plate: A Journey Towards Sustainability
Back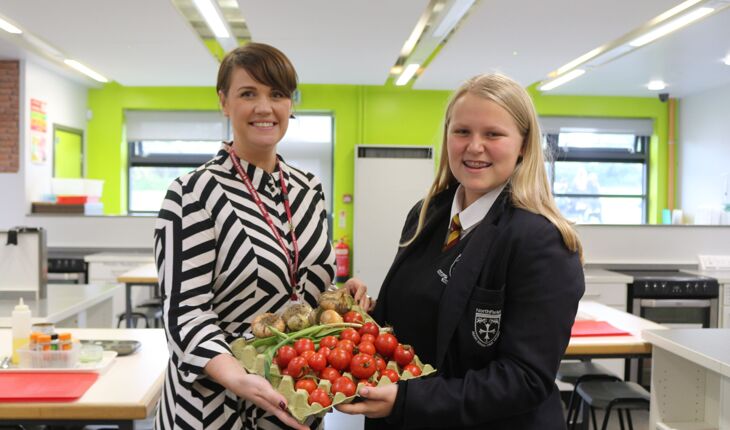 Posted on 12 Sep 2023
Over the past few months, our sustainability club pupils, with the fantastic support of Miss Turner, have been hard at work tending to Northfield's very own veg patch. Their mission? To support our food tech department in becoming more sustainable. Today, we're thrilled to share the fruits (and veg) of their labour.
At the heart of our sustainability story is Ava, a dedicated member of the Northfield Sustainability Club and a genuine veg-growing enthusiast. Ava's passion and expertise have shone brightly throughout Northfield's sustainability projects. Today, she proudly presented the club's harvest to Mrs Malone.
So, what treasures did this harvest yield? A delightful assortment of tomatoes, onions, spring onions, and green beans are en route from our veg patch to your plates (yes, you lucky parents!). But that's not all - our strawberries are on the cusp of ripening, and the garlic is flourishing beautifully.
Mrs Malone's Year 8 and Year 9 food classes wasted no time putting these freshly harvested tomatoes to good use, making delicious chilis and popcorn chicken wraps. Not only does this project reduce our carbon footprint, but it also provides invaluable and rewarding hands-on learning experiences for our pupils.
We're immensely proud of the club's dedication to making our school more sustainable, one harvest at a time. However, as our veg patch continues to flourish, so does the demand for its upkeep. If you're eager to lend a green thumb or learn the ropes of sustainable gardening, please speak to Miss Turner in the art department or email sustainability@northfieldssc.org