Community Spirit Shines at Northfield School's Milestone Summer Fair
Back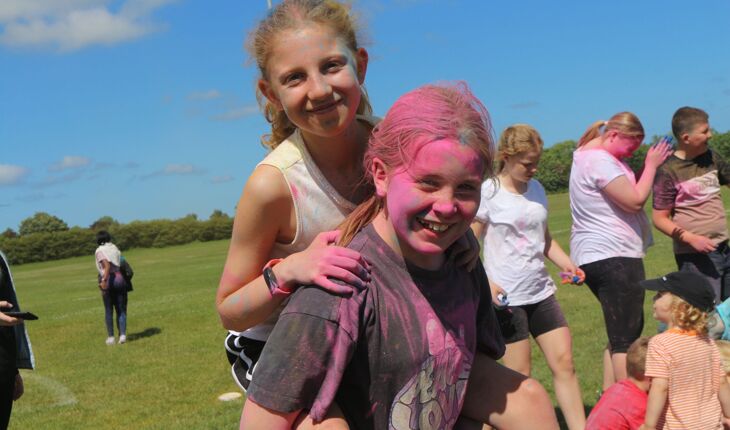 Posted on 26 Jun 2023
Northfield School marked a significant milestone, celebrating 50 years with an unforgettable summer fair on Saturday. The school grounds were abuzz as pupils, staff, parents, and the local community came together to commemorate this special occasion.
Local businesses joined in the festivities, setting up delightful food and craft stalls that showcased the talents of the community. From delectable treats to unique handmade crafts, there was something for everyone. Our Sustainability Club pupils were also there selling plants, seeds, birdhouses and other handmade crafts, which were a big hit!
One highlight of the day was the much-anticipated visit from Bluey, the beloved children's character. Bluey's presence added an extra dose of joy and excitement, bringing smiles to the faces of children and adults alike. The cheerful atmosphere was enhanced by wonderful face painting, transforming eager participants into colourful characters and fantastical creatures.
Guests enjoyed brilliant performances from our Dance Club pupils and there were also plenty of games and activities to get involved in, including a Ninja Warrior-style assault course, bouncy castle, lots of raffles and tombolas, beat the goalie, and the popular sponge throw with Mr Henderson and Mr Hetherington (see photos below). Our local police and fire brigade also attended, allowing guests to sit in the fire engine and even try on the police uniform.
Another standout moment was the Northfield Colour Run; laughter filled the air as participants embarked on an exhilarating run, dashing through clouds of vibrant hues - see the photos below for some great snaps!
The fun-filled afternoon was a resounding success, thanks to the unwavering support and enthusiasm of the Northfield School community. As we reflect on this milestone celebration, we are thankful for the efforts of our pupils, parents and carers, staff and our local residents. Through this strong partnership, we have built a close-knit community dedicated to providing the best educational experience for our pupils. With the support of our community, we look forward to many more years of nurturing and inspiring the next generation of learners.
A massive thank you goes to the businesses who donated prizes to our raffle; Lotus Express, McDonald's, Off the Floor, Peking Gardens, RSPB Saltholme, SPAR, Tees Active and Tesco.