Pupils Unite for the Let Girls Play Campaign!
Back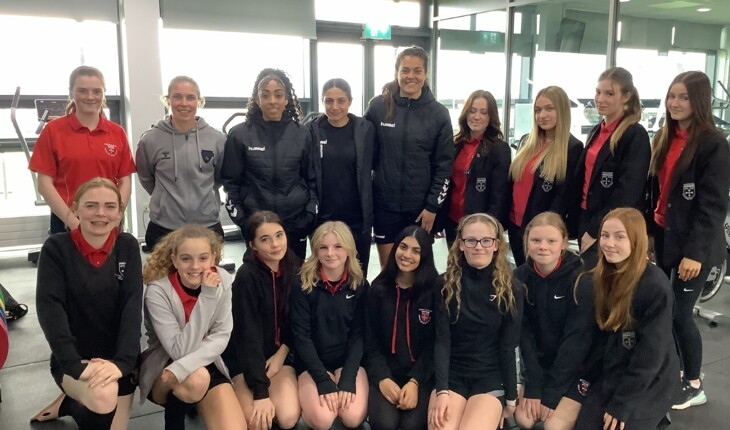 Posted on 13 Mar 2023
A group of pupils joined over 200,000 girls from schools across England by participating in the Largest Ever Football Session as part of the Let Girls Play Campaign.
The girls headed to Bede College last Wednesday to compete against pupils from Our Lady and St Bede Academy. Coaches and players from Bede and Durham WFC attended the event and gave a presentation to the girls about their lives and careers in sports.
The Let Girls Play campaign, which coincided with International Women's Day, aims to raise awareness of the importance of equal opportunities in sports for girls in schools.
According to the FA, only 41% of secondary schools offer girls' football in PE lessons, and only 46% offer the same extra-curricular opportunities as boys. At Northfield, we are proud of our history of success with girls' sports, particularly in football, and pride ourselves on the exceptional clubs and teams on offer for our pupils.
Mr Martin, PE Teacher at Northfield, commented: "We felt it was only right to celebrate this culture of participation by providing girls with the same opportunities as boys and enabling them to do what they love, by playing football.
"Our excellence in girls' football is well established. We have had teams representing Northfield at Wembley in national finals, and we also have girls earning international honours at U18 and U23 levels. We have inspirational teachers who have played and coached football to a high level, and we welcome the Government's decision to address the national gap in girls' sports; however, girls' football has been part of our PE curriculum for a long time."
As a result of a brilliant collective effort from the FA, pupils across England, and the fantastic campaigning from our England Lionesses, the Government has announced a commitment to equal opportunities for girls in schools.
This commitment is backed by over £600 million in funding for the next two academic years to support schools with changing their PE curriculum to offer the same opportunities to girls as they do to boys, including football. Schools that successfully deliver equal opportunities will be rewarded through the School Games Mark.
It is a fantastic leap forward for girls' sports, which will open more doors for girls in England to pursue their passion for football and potentially build on successes such as the Lionesses' Euro 2022 victory. As a school, we look forward to strengthening our PE curriculum further and welcome input from our pupils on which sports they would like to see more of at Northfield.