Head Boy and Head Girl Message
Hello, my name is Lucy, and I am proud to be Head Girl at Northfield School. I have really enjoyed my time at Northfield as I have been given many exciting opportunities and experiences which have developed me into the person I am today.
Since my first day in Year 7, I have thoroughly enjoyed my time at school, and I have found the teachers to be supportive and compassionate with all the pupils. They have guided me through the core values of the school which are respect, resilience and honesty.
What is it that makes our school one of a kind? We have a building in our school that is fully devoted to pupils in Year 7. This makes the transition from primary school to secondary school as smooth as possible. Therefore, the process of moving up to a bigger school is less daunting and it is easier to become comfortable in the new friendly environment. Each year group has their own individual guidance team that follow them throughout their journey at secondary school. Having the guidance team there means that there is always advice and support on offer, which helps pupils feel safe and cared for.
I am very excited to play a key role in supporting the Junior Leadership Team in guiding pupils and engaging with teachers, governors and pupils in order to improve our school going forward.
Attending Northfield School opens so many doors for pupils, both in and outside of school. Every pupil is given the chance to progress at Northfield. We have the best teachers who are always willing and able to support and develop us to our full potential. There is lots of support for pupils with learning difficulties and there has recently been the new addition of the VI and HI base which helps students with visual and/or hearing impairments. Also, Northfield offers many extra-curricular activities that are an effective way for students to make friends and to simply enjoy themselves and have fun. We have excellent sports facilities, so if you are interested in taking up a new sport or being part of a team, Northfield is the school for you. School clubs vary from Geography Club, to the NTC (Northfield Theatre Company), to trampolining and even learning to play the ukulele! In addition, extra-curricular activities in which I have participated have included becoming a student librarian, a reading leader, a sports/panathlon leader, a member of the student council and lots more.
There are many life experiences that can be gained while attending Northfield School, for example, trips to amazing places in the world and meeting interesting people en route. During my time at Northfield, I was fortunate to have attended a water sports trip to Spain with the PE Department, a trip to New York, Washington and Philadelphia with the Humanities department and I participated in the Duke of Edinburgh Award scheme which involves camping in a tent overnight and hiking. I believe that these phenomenal opportunities have had a big impact on me as a person and they have given me amazing memories that I will never forget.
I would recommend Northfield School to anyone as it is a fun, positive and amazing place to be! All the experiences I have had during my time at Northfield have given me the confidence to apply for Head Girl and I am extremely proud to act as an ambassador for the school.
---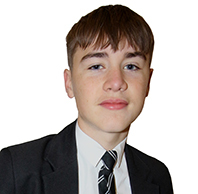 Hi, I'm Ben Blakelock and I'm delighted to say that I have been appointed as Head Boy. I will relish the opportunity to represent the school along with the other members of JLT this year.
I am filled with pride at the fact I'm Head Boy and I think that comes down to my joy at being able to represent the school that I have attended since the age of 11. A school that made my transition seamless and I can safely say I have enjoyed every second. So apart from my opinion, why should Year 7's pick Northfield?
Northfield has created an environment, especially under the new leadership, which encourages and challenges its pupils right from start of their secondary school life and also constructing a core value system that helps pupils stay on track: Respect, Resilience and Honesty provide a simple code of conduct for all to follow to maximise success. This has been made even easier with the introduction of the Year 7 School two years ago; this smaller school within a larger one has allowed Year 7 pupils to flourish in state-of-the-art learning environments and make the change from primary to secondary easier than ever. Not only do Northfield offer a wide range of great facilities in the new Year 7 block but incremental work to improve the quality of the Visually Impaired and Hearing-Impaired Base has meant that Northfield can be commended on its inclusivity.
My personal journey at Northfield has taken me across the country and beyond it, with trips from Westminster with the debate team all the way to Barcelona on an excellent footballing trip. From swimming in the Olympic Swimming Pool in Sheffield to walking around Disneyworld, Paris the opportunities never cease to flow. Pupils found themselves packing their bags to go to New York visiting monumental sites in conjunction with history. Closer to home, I have managed to climb Blencathra with geography whilst taking part and leading countless sporting events with chances conjoined with the P.E Department and Sports Leaders.
Staff here at Northfield are undoubtedly superb. When pupils stick to the aforementioned core value system, they will find that teachers here offer an exemplary platform to achieve in exams. During the pandemic especially, for someone one year off their exams, I got to appreciate the levels teachers in Northfield went to allow pupils the best chance in the face of disruption and uncertainty. In Years 7 and 8, pupils will complete a wide range of subjects before choosing their options in Year 8. The 3-year time period is something I have directly benefited from as lessons are rarely rushed, giving extensive time for staff and pupils to revise and look over topics pupils previously struggled with.
The Pandemic itself has obviously had a telling affect upon how the school is run with year group bubbles, however pupils have adapted to the requirements stunningly and our motto many minds one heart" has never been truer.
If you would like to join a school with great inclusivity, strong leadership and somewhere that will make you a valuable member to not only the school community, but also wider society, then I truly believe that Northfield is an amazing place to attend and I am proud to say I am a student here.
---