After-School Cycling Club Coast-to-Coast Challenge
Back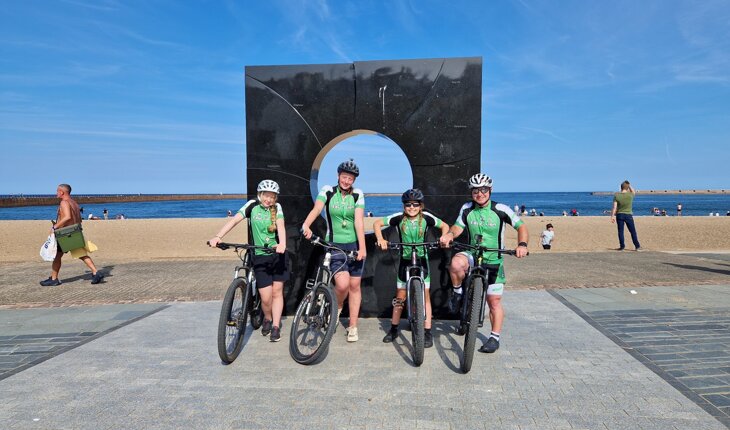 Posted on 15 Feb 2023
Last summer, after joining our Cycling Club with Wheel Education, four of our fantastic pupils, Lucy, Isla, Georgia and Grace, decided to take on the Coast-to-Coast cycling challenge. Before joining the club, the girls had little cycling experience but enjoyed it so much that they decided it was time to crank it up a notch... or ten.
The challenge consists of 130 miles and over 11,000 feet of climbing in only three days, and pupils brilliantly completed their own fundraising for the event and even submitted a bid to the Billingham Legacy Foundation for additional funding to cover the costs. The girls also had fantastic support from Wheel Education Cycling Club, who provided training during weekends and a support vehicle and staff to accompany them on the challenge.
The girls did incredibly well, cycling 132 miles from Whitehaven to Roker across three days, raising a fantastic amount of money for the Billingham Legacy Foundation.
Following their success, the pupils formed the Northfield branch of Wheel Education Cycling Club, gaining members for this academic year. They have set themselves not one but TWO challenges this year; the first is another Coast-to-Coast challenge in spring followed by a ride from Edinburgh to Northfield in the summer.
Their training, organised by Kevin Kilcullen from Stockton Wheelers, is well underway, stepping up a level by incorporating 'proper hills' to give them experience of long climbs. One of their recent rides was a 48-mile tour of Durham, which had nearly 3,000 feet of elevation.
Kevin commented: "The team were fantastic and have shown great commitment to their training so far by working on skills in their Tuesday night sessions at school but also regularly attending the weekly rides each Sunday, which are gradually increasing to ensure they are ready for their challenge. Keep up the good work Northfield Cyclists!"
Keep an eye on our social media channels for updates from our brilliant cyclists!